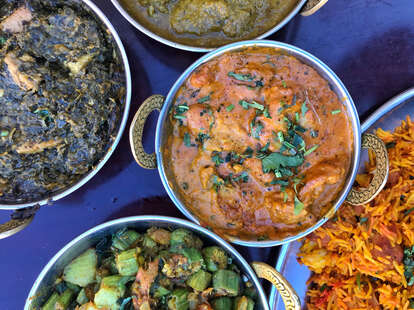 Photo courtesy of India Palace
India Palace is the  Best Indian food Restaurant in Las Vegas.We serves tasty and delicious Indian cuisine in the Las Vegas strip.We presents authentic north & south Indian vegetarian cuisine in a contemporary environment.
Monday
11:00 AM - 10:30 PM
Tuesday
11:00 AM - 10:30 PM
Wednesday
11:00 AM - 10:30 PM
Thursday
11:00 AM - 10:30 PM
Friday
11:00 AM - 10:30 PM
Saturday
11:00 AM - 10:30 PM
Sunday
11:00 AM - 10:30 PM
India Palace is near Twain and Paradise—just east of the Strip—-and an established presence for Indian food in Las Vegas since 1997. There have been a few remodels over the years and the dining room remains an inviting space with comfortable booths and subtle red, orange, and green decor. The lunch buffet is currently on hold (thanks, coronavirus), but you can order anything from the main menu all day long. If you're still looking for a good deal, ask about the platter of currys with soup, rice, and naan, or the mixed grill of kabobs. Have fun with a few fun mashups like dosa stuffed with diced chicken and potatoes, or the Naanwich, which is almost like an Indian burrito with chicken, tomato, lettuce, and cucumber. It's on the kids menu, but there's no judgment for any adults who order it. Wash it all down with a choice of themed cocktails, including the Taj Mahal Martini. India Palace does strong pickup and delivery business and is a great choice for catering large parties.
How to order: Order online for pickup or delivery.
Monday
11:00 AM - 10:30 PM
Tuesday
11:00 AM - 10:30 PM
Wednesday
11:00 AM - 10:30 PM
Thursday
11:00 AM - 10:30 PM
Friday
11:00 AM - 10:30 PM
Saturday
11:00 AM - 10:30 PM
Sunday
11:00 AM - 10:30 PM