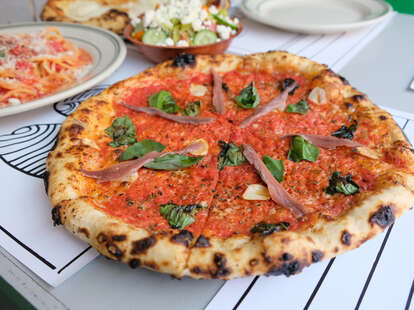 Tuesday
8:00 AM - 10:00 PM
Wednesday
8:00 AM - 10:00 PM
Thursday
8:00 AM - 10:00 PM
Saturday
8:00 AM - 10:00 PM
Jon Shook and Vinny Dotolo transformed a dingy Fairfax Village pizzeria into a ray of edible sunshine. The family-friendly, Italian-American restaurant has pretty much everything an adult (or kid) could want, including pizza with crave-worthy crust, house-made pasta dishes, and Chocolate Budino and Straus soft serve ice cream for dessert. If you wake up early—a big if— you'll also find the restaurant makes a killer breakfast pizza and BLT. The duo's front-of-house partner/beverage director Helen Johannesen also presides over Helen's Wines in the back of the restaurant (as well as at the newer Jon & Vinny's outposts in Brentwood and Windsor Hills), which focuses on organically farmed labels, small production vineyards, and other thoughtful wines.
How to book: Make reservations online.
Pizza doesn't have to be eaten solely for lunch and dinner—at least, not when chefs Jon Shook and Vinny Dotolo (yeah, the dudes from Animal & Son of a Gun) are in charge. The breakfast pie is the menu allstar: topped with a Yukon gold potato, fried egg, rosemary, olive oil, parmesan and red onion, with a perfectly-runny egg right in the middle of it. The ratios are next-level, and the pizza's even better if you add Grilled Nueske's bacon. Obviously. Don't disregard the other pies on the menu though: the decked out Salad Days with little gem lettuce, red onion, caciocavallo, sungold tomato, and creamy Italian sauce is a vegetarian's dream, and the LA Woman comes topped with cold burrata, tomato, basil, olive oil, and sea salt, for a simple yet outstanding pizza.
How to order: Make a reservation online or order pickup and delivery via one of the options on their website.
Tuesday
8:00 AM - 10:00 PM
Wednesday
8:00 AM - 10:00 PM
Thursday
8:00 AM - 10:00 PM
Saturday
8:00 AM - 10:00 PM