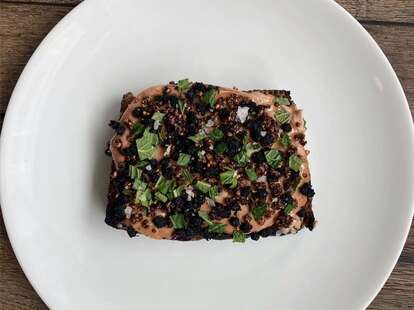 Judy Gibson

| @judygibson_me
Judy Gibson

| @judygibson_me
The gist: After turning heads as the chef de cuisine at Eventide and executive chef at Ogunquit's Velveteen Habit, Chris Wilcox took over a small space in an up and coming neighborhood of South Portland and named it Judy Gibson after his two grandmothers.
The food: Wilcox's winter menu centers around crisp, juicy fried chicken and next-level fixins' like Lacinato kale, horseradish, and cheddar cheese sauce gratin; three-cheese mac & cheese; coleslaw in a celery seed vinaigrette; and house-made pickle chips. You'll also find wildcard sandwiches, like smoked mackerel banh mi, dressed with spicy maple nuoc cham, and a marinated vegetable sub, with winter squash mayo and shredded iceberg. Cocktails include a Clavo Oxiado (mezcal and Drambuie) and the Crookneck, a twist on a classic caipirinha: cachaça and lime, with butternut squash shrub standing in for sugar. For dessert, there is creamy dark chocolate pudding. Gluten-free fried chicken is available with an advance order.
The cost: Fried chicken and fried chicken meals run $18-40, sides are $3-8, cocktails that serve two and wine by the bottle go for $22-45, NA drinks are $2-3. Pantry items, like housemade stocks, apple butter, and a knockout kielbasa-anchovy vinaigrette are also on offer.
How to order: Order takeout on Toast and delivery via Carhop.