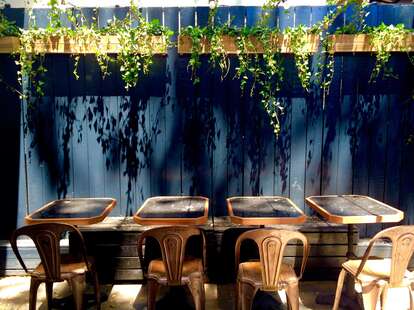 Photo courtesy of June Wine Bar
June is a natural wine bar in Cobble Hill Brooklyn. By Henry Rich of Rucola, Tom Kearney of the Farm on Adderley and wine list consultation by Nick Gorevic.
Tuesday
5:30 PM - 12:00 AM
Wednesday
5:30 PM - 12:00 AM
Thursday
5:30 PM - 12:00 AM
Saturday
11:00 AM - 4:00 PM
Saturday
5:30 PM - 1:00 AM
Just five short years ago, June was amongst the first to introduce Brooklyn to the world of natural wines—today, it's amongst the best known of natural wine bars regardless of which borough you're coming from. Small plates include cassoulet, salt-baked celery root, and chicken schnitzel. The extensive wine list, which offers an impressive array of by-the-glass options, is overseen by co-owner Henry Rich and beverage director Kipleen Green. Current offerings include wines from smaller producers like Portugal's Joao Pato which specializes in Bairrada's indigenous varietals; Domaine Ozil in Rhone, where two brothers produce both biodynamic wines and a range of organic produce (from olives to peaches); and Champagne Marie Courtin, where winegrowers farm the vines biodynamically by hand. June also has a weekly CSA + Wine Club and offers outdoor dining on their heated patio.
How to order: Reservations available via Resy. Pickup available via website. Delivery available via Caviar.
Tuesday
5:30 PM - 12:00 AM
Wednesday
5:30 PM - 12:00 AM
Thursday
5:30 PM - 12:00 AM
Saturday
11:00 AM - 4:00 PM
Saturday
5:30 PM - 1:00 AM