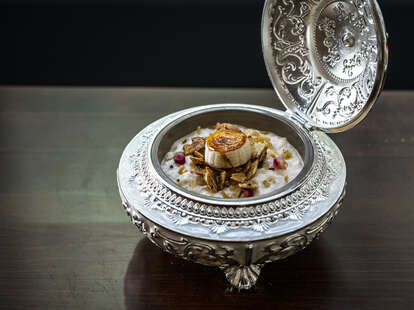 Tuesday
5:00 PM - 10:00 PM
Wednesday
5:00 PM - 10:00 PM
Thursday
12:00 PM - 10:00 PM
Sunday
12:00 PM - 10:00 PM
Friday
12:00 PM - 11:00 PM
Saturday
12:00 PM - 11:00 PM
This award-winning Indian restaurant from restaurateur Rajesh Bhardwa and executive chef Akshay Bhardwaj has been a celebrated fine-dining experience for more than a decade. Here, enjoy regional dishes and contemporary offerings that can be paired with drinks from an innovative cocktail program in an elegant dining room.
Special lunch offering (January 17–22 and January 30 to February 5): Lunch and Sunday brunch at $45 per person.
The award-winning Junoon has been an institution of fine Indian dining since opening more than a decade ago. After a hiatus amidst the pandemic, it reopened last summer (in a new location just down the street from its original home) with a redesign and updates—including less formalized a la carte options and a new desserts program overseen by executive pastry chef Gustavo Tzoc. The kitchen, helmed by chef Akshay Bhardwaj, offers fare like a Mushroom & Truffle Khichdi; and the much-loved Lal Mas. The Banarasi Bread Pudding of jaggery caramel and Banares royal paan leaf is paired with seasonal elements like pumpkin seeds. An inventive cocktail program by general manager Hemant Pathak is broken down into categories titles Bold & Strong, Bright & Refreshing, and more.
Tuesday
5:00 PM - 10:00 PM
Wednesday
5:00 PM - 10:00 PM
Thursday
12:00 PM - 10:00 PM
Sunday
12:00 PM - 10:00 PM
Friday
12:00 PM - 11:00 PM
Saturday
12:00 PM - 11:00 PM