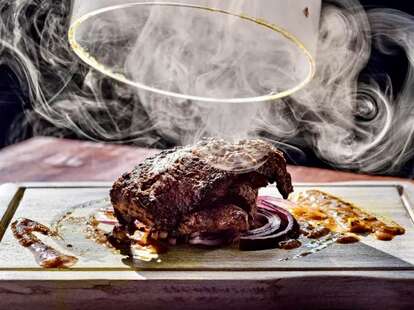 Khan Saab Desi Craft Kitchen
Head to Khan Saab to experience three geographically adjacent cuisines coming together in the spirit of brotherhood through shared food traditions. Featuring the foods of India, Pakistan, and Afghanistan, and led by Michelin-starred chef Imran Ali Mookhi, this is a Halal, or alcohol-free, establishment. Try the Goat Cheese Kulcha—a white flour relative of Naan, leavened with baking powder instead of yeast—that's delicate with just the right amount of goat cheese for a sumptuous starter. While okra fries have their moment elsewhere, try the Bhindi Masala, which features bite-sized fresh okra cooked in a flavorful tomato sauce. To wrap up the meal, choose from one of many reimagined desserts, like Shahi Gulab Jamuns, the Indian version of donut holes, dressed with Nutella and served with chocolate wafers, or Rasmali, Bengali-style steamed fresh cheese dumplings in a cream sauce served with pomegranate arils.
How to book: Make dine-in reservations online or order takeout and delivery through third-party apps.