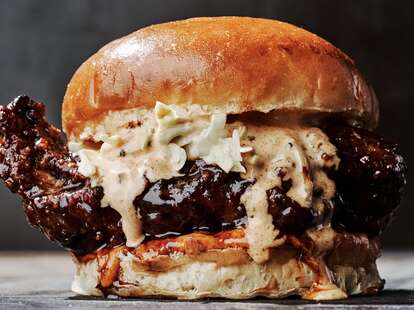 Photo courtesy of Kowbird
Photo courtesy of Kowbird
Matt Horn changed the barbecue game in the Bay with the opening of Horn Barbecue in 2020 and brought his magic touch to fried chicken with Kowbird in early 2022. The counter-service restaurant is a meticulously crafted homage to fried chicken, with a variety of brines, sauces, and preparations available, from sandwiches to wings and boxes with chicken iterations, including classic buttermilk, Nashville hot, and honey mustard. Pair your chicken with a side of fries or, more crucially, mac 'n' cheese.
How to book: Walk-ins only.
Pitmaster extraordinaire Matt Horn has done it again with Horn Hospitality Group's second concept, Kowbird, a fried chicken sandwich joint that pays homage to the food he ate growing up and the soul and love that accompanied it. The menu is all about Horn's signature (and oh-so flavorful) buttermilk-fried chicken in various versions, like the Honey Bird, finished with pickled mustard-seed and aged honey butter sauce; the Early Bird, featuring chicken thigh served on a potato bun and accompanied by house-made pickles; as well as his take on classic sides like Fried Cabbage with country bacon; and creamy mac and cheese made with Havarti, provolone, and gouda. There are also half-birds, wings, chicken and waffles, and lots and lots of pie.
How to enjoy: Walk-ins only. Delivery is in the works.