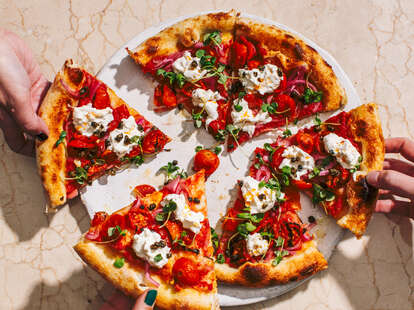 Photo by Cole Saladino for Thrillist
Tuesday
5:00 PM - 10:00 PM
Wednesday
5:00 PM - 10:00 PM
Thursday
5:00 PM - 10:00 PM
Saturday
5:00 PM - 10:00 PM
La Strega translates to "the witch" in Italian, following a theme that honors mystical female figures (so don't be surprised if you see a cocktail named after a Salem witch or maybe Sophia Loren). The cuisine is inspired by chef Gina Marinelli's affection for the varied regions of Italy, with recipes that allow simple ingredients to shine without being overwhelmed by house-made sauces. Welcome touches include the earthy dandelions in the pesto bucatini and subtle sweetness of honey in the pizza crust. Marinelli also ensures seafood is well represented on the menu, especially the evolving hamachi appetizers. The hard part is choosing between two distinctively different dining rooms: one is dark and seductive, the other is bright and open with the energy of an open kitchen on display.
How to book: Call 702-722-2099 or visit the website to book a reservation.
Chef Gina Marinelli has Christmas Eve covered. Stop by La Strega 11 am–3 pm for a pop-up fish market with a fish slicing demo, special wine list, and a choice of fresh fish, house-made sauces, spices, and rubs for your own at-home holiday cooking. Nibble on piadinas, pizzas, and cocktails while shopping. The restaurant hosts a Feast of Seven Fishes dinner later that night at 5 pm with five courses served family-style for the table with eel fritters, steelhead trout tartare, and a massive grilled seafood plate among the highlights.
Cost: Feast of Seven Fishes is $85 per person.
How to book: Call 702-722-2099 to make a reservation.
Tuesday
5:00 PM - 10:00 PM
Wednesday
5:00 PM - 10:00 PM
Thursday
5:00 PM - 10:00 PM
Saturday
5:00 PM - 10:00 PM