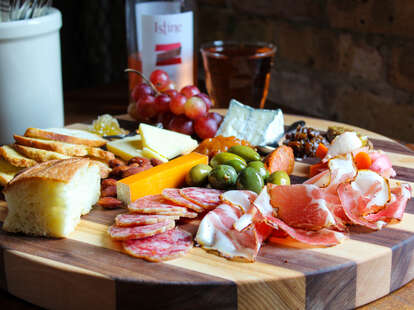 Wednesday
7:00 AM - 7:00 PM
Thursday
7:00 AM - 7:00 PM
Saturday
7:00 AM - 10:00 PM
The gist: Cured meats are central at Lardon, where chef Chris Thompson's charcuterie program calls upon local farms and a nose-to-tail approach. Housed within a 110-year-old building, the interiors reflect the same patience and dedication modeled everyday here in the kitchen: A two-year buildout reveals exposed brick walls, original wood joists, and antique honeycomb tiled floors in an inviting, sun-washed space.
The food: The spectacle here is the charcuterie cave, a curing room celebrating the likes of Spicy Coppa, Bresaola, Saucisson Sec, Genoa Salame, and 'Nduja. Guests can build a board of charcuterie or cheese cut to order, then ask the team for drink pairings that would prove apropos (think Aperitivi or Amari).
How to book: Reserve via Toast.
Wednesday
7:00 AM - 7:00 PM
Thursday
7:00 AM - 7:00 PM
Saturday
7:00 AM - 10:00 PM