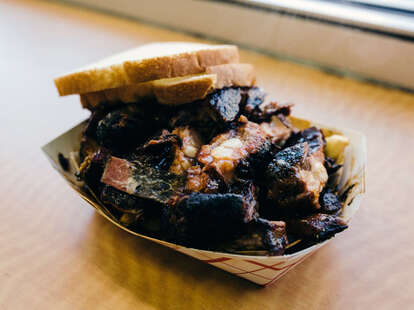 Wednesday
1:00 PM - 1:00 AM
Thursday
1:00 PM - 1:00 AM
Saturday
1:00 PM - 3:00 AM
The basics: When Mississippi-born brothers Bruce and Myles Lemons first opened their modest Southside BBQ shop back in 1954, they had no idea they'd be launching a Chicago legend. Fast-forward 65+ years and the pair's fall-off-the-bone ribs, tender smoked rib tips, crispy fried chicken, and tangy original sauce continues to elicit a near-constant line out the door.
What the experts say: "Barbecue coexists with fried offerings in a harmonious symbiosis and you need to experience both to fully understand Lem's," says Manion. "Go with large tips, links, a quarter fried chicken dark, fried chicken livers (you've come all this way), a quarter slaw, a quarter potato salad, and extra sauce. This is a meal best enjoyed standing up." McKenna notes that the Chicago-style aquarium smoker is a local institution and says not to miss the rib tips, while Sorkin and Bruns put Lem's in the same OG column as Honey 1: "To me, they're in the same category. If you want old-school Chicago barbecue, that's where you go," says Sorkin, while Bruns compares it to Calumet Fisheries, another local institution, and shouts out their rib tips as something special—and uniquely Chicago.
How to book: Stop by for first come, first served seating or call 773-994-2428 for take-out.
Wednesday
1:00 PM - 1:00 AM
Thursday
1:00 PM - 1:00 AM
Saturday
1:00 PM - 3:00 AM