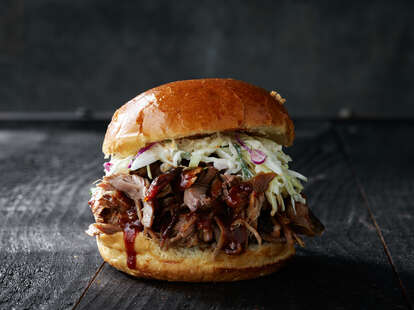 Tuesday
10:00 AM - 6:00 PM
Wednesday
10:00 AM - 6:00 PM
Thursday
10:00 AM - 6:00 PM
The basics: A maestro when it comes to Southern-style seasonings, Chef Charlie McKenna proudly presided over his saucy empire's original North Avenue flagship for a full decade before it permanently shuttered several weeks after the statewide virus-induced lockdown went into effect, seemingly forever ago in 2020. Lucky for us, though, the pulled pork specialists seamlessly transitioned to West Town's bustling District Brew Yards shortly after closing the Wicker Park outpost and the sudsy team-up proves to be the ideal landing place for McKenna's meaty delights and comfort classic sides.
What the experts say: "Do you know about smoked tri-tip? Do you like delicious sauce(s)? Have you ever had truly, legitimately, award-winning pulled pork?" asks Manion. "If the answer to any of these questions is 'yes', you might like Lillie's Q as much as I do." Bruns is also a fan of their delicious sauces ("I have their Carolina Gold sauce in my fridge.") According to Eckmann, the smoked tri tip and baby back ribs are "insane," and "the new location is a perfect day drinking spot for a sunny day." Sorkin hops on the tri-tip bandwagon too: "If you've eaten tri-tip in Chicago, there's a good chance it was at Lillie's Q."
How to book: Stop by for first come, first served seating or order take-out and delivery via Caviar and Toast.
Tuesday
10:00 AM - 6:00 PM
Wednesday
10:00 AM - 6:00 PM
Thursday
10:00 AM - 6:00 PM