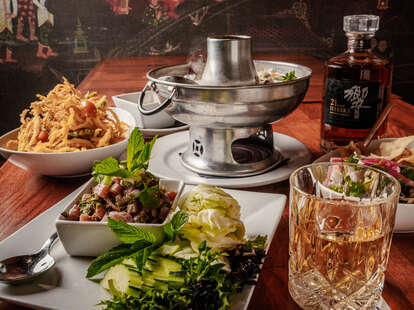 Photo by Eugene Dela Cruz, courtesy of Lotus of Siam
Photo by Eugene Dela Cruz, courtesy of Lotus of Siam
Tuesday
11:00 AM - 2:30 PM
Wednesday
11:00 AM - 2:30 PM
Thursday
11:00 AM - 2:30 PM
Tuesday
5:30 PM - 10:00 PM
Wednesday
5:30 PM - 10:00 PM
Thursday
5:30 PM - 10:00 PM
Saturday
5:30 PM - 10:00 PM
The original Lotus of Siam at Commercial Center was one of the first non-Strip Vegas restaurants to earn national attention, thanks to the authentic Northern Thai recipes of Chef Saipin Chutima. The restaurant moved to a more contemporary space on Flamingo Road a few years back and recently expanded the brand's presence with a second location inside the Red Rock Resort. It's a gorgeous space that matches the beautifully prepared cuisine with wood and aluminum decor, shelves of pottery, and overhead light fixtures that take inspiration from traditional Thailand lantern festivals. The menu is just a tad smaller but still covers a lot of ground. If you're in doubt, go with the black pepper garlic prawns and anything from the "Mom's Highlights" section as a starting point. In a new twist, Lotus of Siam at Red Rock also sets itself apart with a weekend brunch, including a Party Brunch once a month. So get used to roti in place of pancakes. That's not all for Lotus of Siam. The family behind the concept plans to reopen a renovated version of the original Commercial Center location by the end of the year and is open to being in more casinos down the line.
Having a meal at Lotus of Siam is a Las Vegas bucket-list dining experience, thanks to an indulgent menu of Thai cuisine by Saipin Chutima. Those bold flavors are best enjoyed with a bottle from the restaurant's stellar wine collection. Under the guidance of wine director Aaron Kelley, the list skews heavily toward whites, which balance the acidity and spiciness in the dishes. There are hundreds of choices on Reisling alone, but the restaurant may also have the best selection of Sauvignon Blanc and Grüner Veltliner in Vegas. Prefer reds anyway? The wine list has an ample share of Pinot Noirs and Gamays, chosen carefully to pair well with the food. Lotus of Siam also has an excellent cocktail program and has been building up its Japanese whiskey collection for years.
How to order: Book a reservation online.
Tuesday
11:00 AM - 2:30 PM
Wednesday
11:00 AM - 2:30 PM
Thursday
11:00 AM - 2:30 PM
Tuesday
5:30 PM - 10:00 PM
Wednesday
5:30 PM - 10:00 PM
Thursday
5:30 PM - 10:00 PM
Saturday
5:30 PM - 10:00 PM