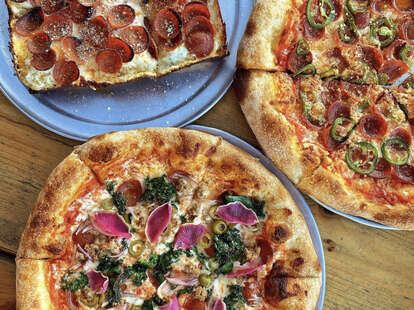 Photo courtesy of Love Supreme Pizza Bar
Picture it: It's Sunday, and you and bae are hungover. They're craving some thin-crust slices to satisfy their beer-laden stomach, while you can't imagine grubbing down on anything besides Detroit-style squares to gear up for that eventual post-meal nap. Love Supreme has you both covered, serving two styles for all your versatile needs in a location with such a beautiful, string light-covered patio that you might be tempted to change that to-go order to dine-in. Regardless of which style you pick, you'll want to go for the signature Love Supreme, a topping bonanza spanning pepperoni, sausage, pomodoro, red onion, and olives, plus unexpected highlights like kale and watermelon radish.
How to book: Order for pick-up via Toast.