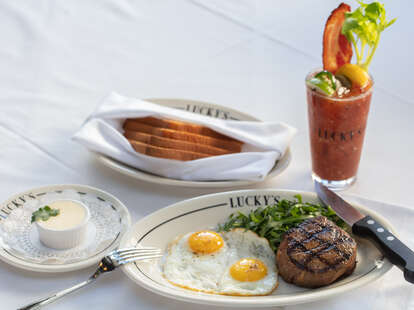 Photo courtesy of Lucky's Malibu
Whether you're joining us in your shorts fresh from the beach or looking for a great late-night cocktail, we have you covered. Serving up only the best in steaks, chops, seafood, and more.
Wednesday
5:00 PM - 9:00 PM
Thursday
5:00 PM - 9:00 PM
Saturday
5:00 PM - 10:00 PM
The southern outpost of the original Montecito steakhouse boldly opened in Malibu Country Mart during the shutdown last December. Since reopening for dine-in earlier this year, the meat-centric eatery has launched lunch and brunch service, offering classic steakhouse fare including a Peter Luger-style Porterhouse, a variety of filets, a tried-and-true wedge salad, plus an entire section dedicated to decadent potatoes, including hash browns with gruyere and sour cream-topped skins. And given we're in beachy Malibu, you'll find lots of light and white interiors in place of that typical dark and clubby steakhouse style.
How to book: Order online for pickup.
Wednesday
5:00 PM - 9:00 PM
Thursday
5:00 PM - 9:00 PM
Saturday
5:00 PM - 10:00 PM