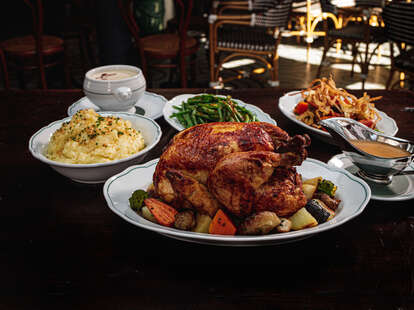 Photo courtesy of Lumière Brasserie
You'll feel transported to the City of Lights as soon as you step inside the sparkling new Fairmont Century Plaza. Located on the ground level with an outdoor patio garden attached, this traditional brasserie even brought in furniture and fixtures from France to make you really feel like you're dining in an authentic space. The food here combines French technique with local California produce with outstanding results, including what's perhaps the best French Onion Soup in the city, must-have Chicken Liver Mousse with olive oil jam, Steak Frites, and more. The sprawling indoor-outdoor space also serves breakfast and lunch, and is an ideal spot for after-work drinks with an old-school bar in the center of the restaurant.
How to book: Walk-ins are welcomed, but reservations are recommended.
The flagship Parisian-style brasserie at the newly unveiled Fairmont Century Plaza will offer a comfort-inspired family-style dinner both Christmas Eve and Christmas Day. Each guest will get a pear and brie soup with roasted grapes and then share an entrée of whole rotisserie Mary's organic chicken with a trio of sides, including roasted root vegetables, grilled green beans, and gravy-topped mashed potatoes, followed by a dessert of winter fruit crumble and ice cream.
Dine in-details: $150 for a dinner for two or $250 or dinner for four. Served 5 pm to 10 pm December 24 and 25.
How to book: online.