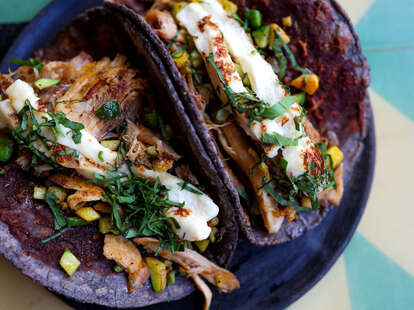 Monday
11:00 AM - 10:00 PM
Tuesday
11:00 AM - 10:00 PM
Wednesday
11:00 AM - 10:00 PM
Thursday
11:00 AM - 10:00 PM
Friday
11:00 AM - 10:00 PM
Saturday
11:00 AM - 10:00 PM
Sunday
11:00 AM - 10:00 PM
Madre's menu is an unforgettable tribute to Oaxacan cuisine—often utilizing ingredients like chiles, cheese, and spices imported from owner Ivan Vasquez's native Oaxaca and family recipes passed down from his mother. The restaurant's renowned for its rich moles, goat barbacoa, and tlayudas, served with thick masa tortillas called memelas, in addition to an extensive bar program. Besides having the largest collection of artisanal mezcal in the country, Madre has a great Taco Tuesday special, daily happy hour, and some very good tamales de mole that we can't recommend enough.
How to book: Walks-in only at Palms. Reservations are recommended for Torrance and West Hollywood, although both accept walk-ins. Order delivery or pickup online.
Outdoor dining is available at all three LA locations of Madre, Oaxaca native Ivan Vasquez's modern Mexican tribute to his mother. The restaurant boasts the city's best mezcal collection and uses regional Mexican ingredients like tiny but potent piquin peppers that provide a jolt to Octopus and Shrimp Ceviche. For a truly special experience, order Mole Palenquero, made using fruits roasted during Mezcal Real Minero distillation, which adds to a beguiling blend of chiles, herbs, nuts, and spices before being blanketed over chicken. Madre also offers tlayudas and tacos, a huevo-powered weekend brunch, and a sizable happy hour menu.
How to book: Walk-ins welcome.
Monday
11:00 AM - 10:00 PM
Tuesday
11:00 AM - 10:00 PM
Wednesday
11:00 AM - 10:00 PM
Thursday
11:00 AM - 10:00 PM
Friday
11:00 AM - 10:00 PM
Saturday
11:00 AM - 10:00 PM
Sunday
11:00 AM - 10:00 PM