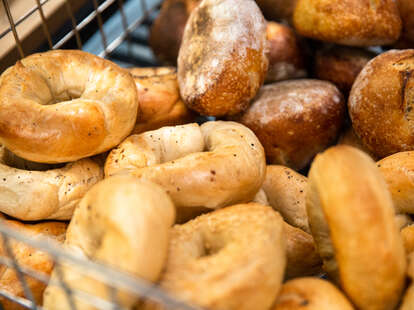 Everywhere You Need to Eat in NYC Right Now
The gist: Variety is key at Mark's Off Madison, and the restaurant has plenty to offer when it comes to dishes considered to be local NYC favorites. Here, Queens-born cookbook author and chef Mark Strausman takes 30 years of experience from places like legendary eatery, Freds at Barneys New York, and Italian spot, Campagna, to offer some of his greatest hits like Belgian Fries and Lasagna at this all-day spot and New York-style bagel bakery located off Madison Square Park. Whether opting for a warm homemade soft pretzel or a rib eye steak, expect a level of expertise that any New Yorker would approve of.
The food: Offerings include artisanal breads, pizza, soup, salad, sandwiches, pasta, large entrees, desserts, and bagels that are available through the Bagel Take Out Counter. During lunch, expect Sauteed Chicken Liver with port wine sauce; a selection of salads like classic Chopped Chicken, the Palm Beach with jumbo shrimp, and the O.G. Madison; and mains like the hearty Jewish Boy From Queens sandwich with roasted turkey and homemade potato chips. During dinner, choose a wide range of options like Potato Latkes, Pumpkin Tortelloni, Beef Wellington, and a dedicated pizza menu. Signature items include Estelle's Chicken Soup, Belgian fries, and the M.O.M. burger. Hand-rolled bagels, cream cheeses, smoked fishes, pastries, bialys, black and white cookies, and more are also available.
Where to Eat Brunch in NYC This Spring
Mark's Off Madison is a culmination of more than 30 years in the NYC food world for Queens-born chef, Mark Strausman. With past experience at legendary eatery, Freds at Barneys New York, and Italian spot, Campagna, Strausman's first namesake restaurant focuses on quintessential NYC dishes of Italian, Jewish, and European roots made with sophistication. The eatery's brunch menu can vary on what the chef is cooking up that day, but typical dishes include Mark's bagel benedict with two poached eggs and double-smoked bacon on a bagel with cayenne hollandaise; banana stuffed French toast; and porchetta hash topped with a fried egg. And for any M.O.M. devotees, signature items like Belgian fries or Estelle's chicken soup are also available to order.