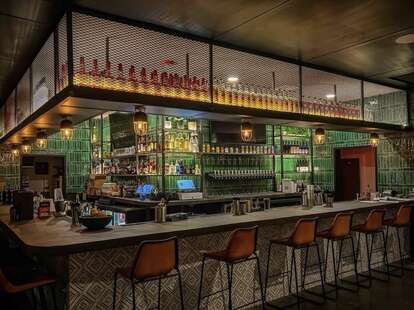 Photo courtesy of Mayer's Garden
Photo courtesy of Mayer's Garden
Wednesday
3:00 PM - 11:00 PM
Thursday
3:00 PM - 2:00 AM
Saturday
11:00 AM - 2:00 AM
Sunday
11:00 AM - 11:00 PM
This attractive bar took over the old Jake's Burgers and infused the space with blonde wood, breezy vibes, and lots of hanging green plants. There's a generous happy hour that runs all day Monday and Tuesday through Friday from 3 to 7pm, when you can take down beers, wines, and house cocktails for cheaper than usual—try the Rosemary Paloma, with tequila, Aperol, grapefruit, and lime. And when you're hungry, the food menu features classics like sandwiches, tacos, and deviled eggs. It's important to note the Nuggies section, stocked with Chicken Nugs, Portobello Nugs, and a Nugs Party Platter, which feeds a crowd and includes a handful of different sauces, including a BBQ sauce made with rye whiskey.
How to book: Stop by for first come, first served seating.
The old Jake's Burgers spot on Henderson has received new life via Mayer's Garden, transformed into an indoor-outdoor hangout with big garage doors that open onto the sunny patio. That sizable yard has umbrellas when it's sunny and heaters when it's cold, so there's never a bad time to sit outdoors and work your way through the menu of beers, wines, seltzers, and garden cocktails like Aperol Spritzes or Rosemary Palomas. Pair your drink with sandwiches, tacos, and house Nuggies—aka chicken or portobello nuggets available with a variety of dipping sauces.
How to book: Stop by for first come, first served seating.

Wednesday
3:00 PM - 11:00 PM
Thursday
3:00 PM - 2:00 AM
Saturday
11:00 AM - 2:00 AM
Sunday
11:00 AM - 11:00 PM