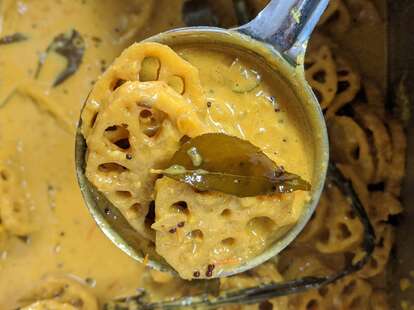 Photo courtesy of Mirisata
The gist: A vegan Sri Lankan pop-up program turned full restaurant, Mirisata has more than one thing going for it, including an all-vegan menu on spicy, aromatic curries that are rarely seen in Portland. The other area that Mirisata impresses is with its business structure; in a year where restaurant culture and equity was on the forefront of national discussions, Mirisata opened as a worker-owned cooperative.
The food: Throughout the week there are options for vegan roti, sambol, kottu, and sides of curries. The weekend sees a rotating curry and rice platter: always heavily aromatic and often spicy, curries often include jackfruit, eggplant, dahl, lotus root, coconut, and other Sri Lankan dishes.