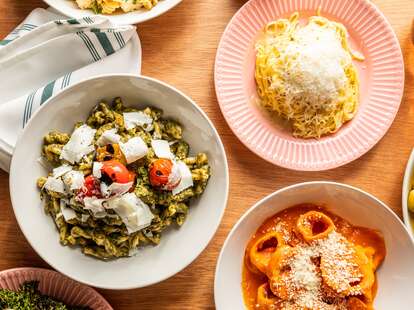 Photo courtesy of Montelupo
Where to Eat in Portland Right Now
The gist: One part Italian pantry shop, one part pasta restaurant, the newly opened Montelupo has navigated the perils of the Pandemic with a mix of outdoor dining and a focus on to-go and delivery meals. In the cooler months it has shut down its tented dining, but it's still open with an array of pastas to go, alongside its market of fresh and dried pastas, pantry items, wines, and cocktails. Grab some wine or to-go cocktails and some pasta to take home, ready made or ready to cook.
The food: Montelupo is all about Italian home cooking, including a lovely Bucatini alla Amatriciana with pancetta, garlic, tomato and chili; a delicate lemon-braised chicken cavatelli with capers; and heartier dishes like beef and pork bolognese. However, it's the simplicity of the Tajarin where the cooking really shines, with thin egg noodles tossed with truffle butter and parmesan for a nutty, aromatic pasta dish.
The cost: Pasta dishes range from $11 to $16. Cook-at-home pasta dishes range from $16 to $25 or so, and serve multiple diners.