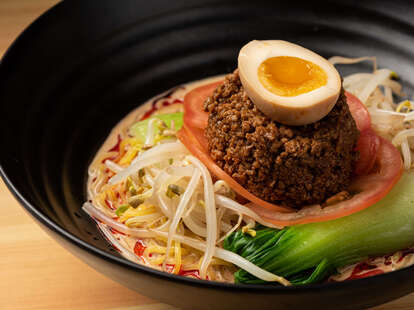 Photo courtesy of Moto Ramen
In June 2020, Moto Ramenowners Sarah Kim-Jenkins and Yuki Nakamoto took over the location that once held the acclaimed Ramen Yamadaya, at the corner of Washington and Sepulveda Boulevards in Culver City, shifting the menu to focus on Okinawa-inspired ramen.One of our favorite ramen spots in the city, Moto's spicy tonkotsu is perfect for warming your bones on LA's rare rainy days, while their cold tantanmen—served with a spicy sesame peanut sauce—is a refreshing choice all year long. Don't miss happy hour Monday through Friday from 4:30–6 pm.
How to order: Walk-ins only. Order online for takeout.
Launched by industry veteran Sarah Kim-Jenkins—who, with her mom and chef Yuki Nakamoto, opened and operated Marina Del Rey's acclaimed Irori Sushi before selling the business—Moto Ramen is an homage to Nakamoto's Okinawan roots. The boldest bowls also happen to be its tastiest—from a tastebud-tickling tonkotsu that sings with piquant black garlic to a nutty, sesame-infused cold tantanmen that melds ground pork and a velvety-soft egg. Supplemented with a selection of small izakaya-style plates and rolls (plus bento boxes and $5 rice bowls during lunch), the well-rounded menu is just what the Westside needs.
How to order: Call 310-815-8776 for takeout or delivery; pickup or delivery via Toast and other apps.