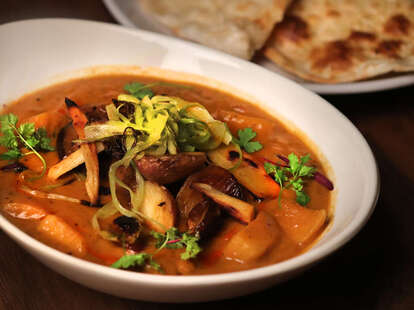 Photo courtesy of Mumtaz Market
Where to Eat in Austin Right Now
The gist: A manifestation of Austin's beloved G'Raj Mahal, Mumtaz Market is its wildly popular successor—and one of Austin's top Indian restaurants—blending scratch cooking, South Asian flavors, and a touch of adventure.
The food: Aside from a wide selection of traditional curries from Tikka Masala to Korma, the team puts a creative spin on Indian entrees. The Pork Rechaad is a comforting stewed, spiced, and gingered pork with braised cabbage and candied pineapple, while the Gnocchi Saag, a creamed curry spinach with potato dumplings, is a vegetarian's dream. Lunch specials include the Tikka Masala plate and Lamb Burger and Fries, best enjoyed with Mango Lassi.
The cost: Lunch specials $14 - $16, starters $8 - $10, entrees $19 - $42, curries $14 - $18.

Where to Eat Indian and South Asian Food in Austin Right Now
From the team behind G'Raj Mahal, Mumtaz Market has stepped up as its wildly popular successor. Here you'll find traditional curries and creative entrees like the Gnocchi Saag (cream curry spinach with potato dumplings) and Almond Cream Kashmiri. The late lunch go-to is the Vegetarian Curry Plate (veggie curry of the day, rice, roti, and veggie samosa)—an ideal lead-in to happy hour.