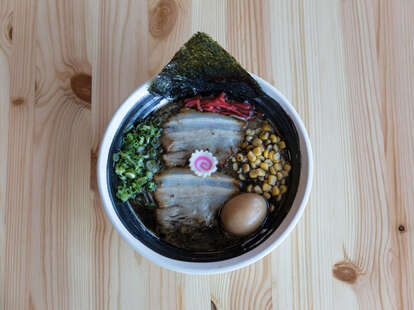 Photo courtesy of Nishiki Ramen
Noodles made in-house daily are what make the difference at Nishiki Ramen, the wildly popular Japanese chain's first foray into the US market. You can't go wrong with Smoke Bomb Black: with roasted black garlic sauce, tender pork belly chashu, and a perfect, velvety "slow egg." Vegetarians and vegans will appreciate the hearty, warmth-inducing mushroom broth option, and vegan noodles are available for a slight up-charge. For an at-home ramen experience that you can enjoy literally at any time, consider one of four ramen kits starting at $14.95 that includes broth, pork belly chashu (or Impossible chicken karaage), and Nishiki's housemade noodles.
How to order: Walk in or order takeout and delivery via their website.