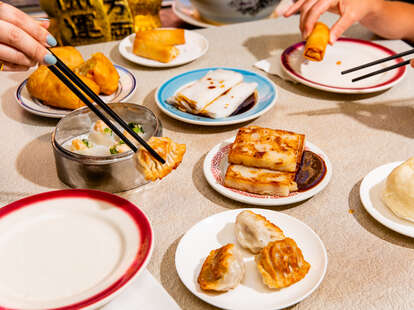 Photo by Cole Saladino for Thrillist
The first dim sum parlor in Chinatown since 1920. Offering dim sum on demand all day and 10 different types of teas.
Tuesday
11:00 AM - 9:00 PM
Thursday
11:00 AM - 9:00 PM
Saturday
11:00 AM - 9:00 PM
Established in 1920 and now helmed by first generation New Yorker, Wilson Tang, Manhattan's oldest dim sum parlor now has locations across Manhattan in addition to Philadelphia and Shenzhen. Expect all of the classics like Siu Mai, Har Gow, Turnip Cakes, and Pork Buns, and be sure to add on the famous "O.G." eggroll (which actually contains egg!). Packages of Nom Wah's frozen dumplings are also available for local delivery and nationwide shipping.
What the team says: "Nom Wah is a classic institution in Chinatown dating back a century. I'm a huge fan of the Siu Mai, Shrimp Rice Rolls, and Pan-Fried Dumplings." -Tim
Tuesday
11:00 AM - 9:00 PM
Thursday
11:00 AM - 9:00 PM
Saturday
11:00 AM - 9:00 PM