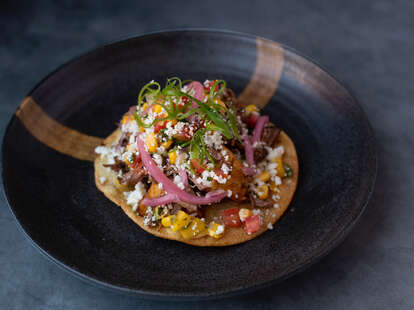 Photo by Adahlia Cole, courtesy of OKO Supper Club
Solomon Johnson and Mike Woods, the chefs behind Oakland's popular ghost town kitchen Bussdown, offer diners a new perspective and approach to African Diasporic cuisines with their pan-African fine dining concept, OKO, named after the African god of fertility. The food at OKO highlights ingredients and dishes across Africa as well as the Caribbean, Latin America, and the United States, via a ten-course tasting menu and also finds fun ways to educate diners (like writing menu items in Swahili). The chefs are still looking for a permanent location, so right now, the only way to experience this new concept is at monthly Sunday suppers. This is also one of chef German's recommendations, so you know it's gonna be good.
How to enjoy: Reserve on Tock.