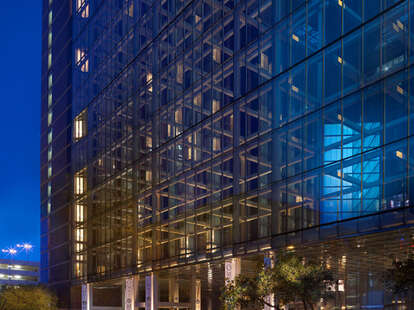 Omni Austin Hotel Downtown
Lauded in 2012 by J.D. Power and Associates for having the "Highest in Hotel Guest Satisfaction Among Upper-Upscale Hotel Chains", the Omni is a downtown behemoth with nearly 400 rooms and a heated rooftop pool.
Monday
12:00 AM - 12:00 AM
Tuesday
12:00 AM - 12:00 AM
Wednesday
12:00 AM - 12:00 AM
Thursday
12:00 AM - 12:00 AM
Friday
12:00 AM - 12:00 AM
Saturday
12:00 AM - 12:00 AM
Sunday
12:00 AM - 12:00 AM
Got an important business proposal and need a quiet spot to hear yourself think and/or speak? The Omni Austin Hotel Downtown is a hidden gem tucked on San Jacinto at 8th Street. It's close to all the action, but without the chaos. Capital A offers a bright and airy space, excellent WiFi, and best of all, top-notch food in a sophisticated yet casual setting. The Seared Loch Duart Salmon with chipotle corn broth and cauliflower succotash is an absolute standout. On the same floor, there's also a full bar and a Scandi-chic coffee house if you want somewhere to keep conversations going post-dessert.
How to book: Stop by for first come, first served seating, or call (512) 476-3700 to reserve a table.
Need a lil' respite from the madness? Look no further than Omni Downtown Austin. Though it's set in downtown in the heart of it all, its location on San Jacinto is distinctly quieter, and here you'll get a solid night's sleep before the mayhem. In 2021, the hotel underwent a multi-million-dollar makeover, so everything is extra chic and sparkling new from the lobby up. There are 393 guest rooms with thoughtful sculptures, spacious work counters that come with all the smart tech you could need, and bathrooms with excellent lighting. This is the grown-up stay (or one for the Tauruses) during ACL.
Rooms start at around $210
Monday
12:00 AM - 12:00 AM
Tuesday
12:00 AM - 12:00 AM
Wednesday
12:00 AM - 12:00 AM
Thursday
12:00 AM - 12:00 AM
Friday
12:00 AM - 12:00 AM
Saturday
12:00 AM - 12:00 AM
Sunday
12:00 AM - 12:00 AM