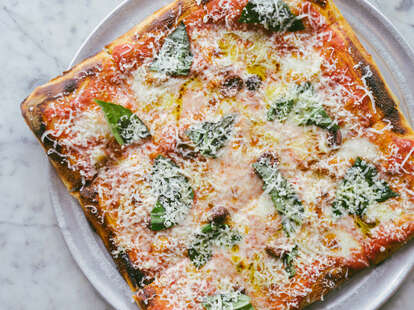 The 21 Best Pizza Restaurants in Brooklyn
This hipstery pizza bistro has won rave reviews for its Neapolitan pies, helmed by chef Mike Fadem, and partners Marie Tribouilloy and Gavin Compton. Celebrating its fifth anniversary this year, Ops continues to leaven its pizza dough naturally, fermenting the dough for 26 hours, and using all organic ingredients, including a flour blend comprised of spelt, wheat, and semolina. Pizzas are fired in a wood-fueled hearth for two minutes, which includes the signature Cicero, topped with preserved tomatoes, "many onions," provolone, mozzarella, and oregano.
The 30 Best Pizza Places in NYC
Named for the Roman goddess of the harvest, Ops stays true to its muse with fresh, high-quality ingredients stacked on a naturally leavened pizza dough. Margherita pizzas are adorned with house-made mozzarella, and seasonal pizzas are topped with special limited-time treats.