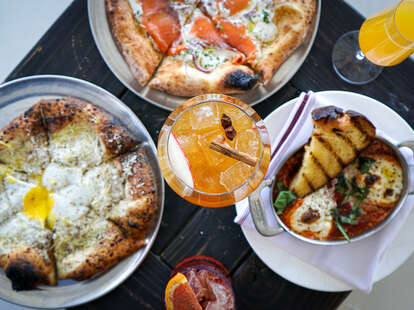 Photo courtesy of Osteria Fiorella
When Vetri Cucina ceased operation at the (still-closed) Palms resort during the onset of the pandemic, Marc Vetri and his team didn't miss a beat in moving over to Osteria Fiorella at the Red Rock Resort. Under the day-to-day direction of executive chef Joel Myers, the restaurant was initially a temporary pop-up concept, but is now permanent. Taking modern Italian cuisine in new directions, brunch is one of the best reasons to visit. The house-made pastries are a great start, but save room for a woodfired Cacio e Pepe pizza with egg and bacon or a biscuit egg sandwich that's given a spicy kick with Vetri's own Fiorella Sausage. Champagne and mimosas are poured tableside.
When Vetri Cucina was forced to suspend operations at the (still temporarily closed) Palms resort during the pandemic, Marc Vetri regrouped and reinvented his Vegas restaurant at the Red Rock Resort. The menu is similar, but the dining room is more contemporary with a reserved environment and outdoor patio that better suits the Summerlin crowd. With executive chef Joel Myers in charge of the kitchen, Vetri's recipes are given a fresh spin with perfectly rolled gnocchi, wood-fired pizzas, and expertly prepared seafood recipes. Play it cool and order the off-menu Cacio e Pepe pizza or just come by for the weekend brunch when the same dish is topped with egg and bacon.
How to book: Book a reservation online.