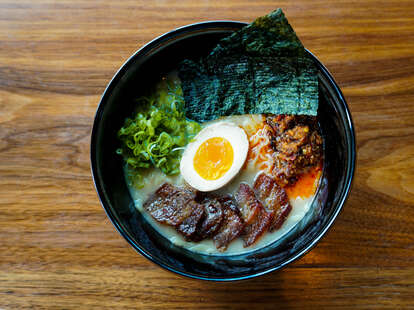 Tuesday
5:00 PM - 11:00 PM
Wednesday
5:00 PM - 11:00 PM
Thursday
5:00 PM - 11:00 PM
Saturday
5:00 PM - 11:00 PM
Founded by chef Tracy Chang, PAGU in Central Square is set in an open space with a crisp and clean look, only complemented by the wave of eclectic dishes making their way in and out of the kitchen. Specializing in Japanese tapas, PAGU has everything from fried calamari to duck confit. They're known however for popular bao buns, specifically the squid ink unagi bao—you really can't go to PAGU without trying a bite.
Chef Tracy Chang founded PAGU is a Spanish-Japenese fusion restaurant. At an early age, Chang was introduced to the restaurant industry after watching her grandmother, a Taiwanese immigrant, successfully run a Japanese restaurant in Cambridge. After college, Chang eventually went on to study at Le Cordon Bleu in Paris and work at a Three star-michelin restaurant in Spain (via PAGU's website). Inspired by her family and time spent working around the world, PAGU has a diverse menu featuring pizza, fried rice, ramen, and dessert/dinner DIY kits to prepare you for a night-in.
How to support: Order pickup online, purchase a gift card, or order from PAGU's online market (offers nationwide shipping).
Tuesday
5:00 PM - 11:00 PM
Wednesday
5:00 PM - 11:00 PM
Thursday
5:00 PM - 11:00 PM
Saturday
5:00 PM - 11:00 PM