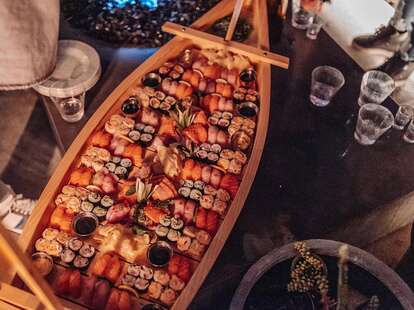 Photo courtesy of Paris Tokyo
This rooftop sushi restaurant is more TikTok famous for its ambiance and beautiful people preening for selfies on their iPhones than its food—but its seasonal menu featuring freshly imported fish from Japan is nothing to scoff at. The restaurant lounge is a pink cherry blossom explosion so exclusive they only accept Instagram DMs for dinner reservations. For the best presentation, order the sushi boat, premium omakase, or caviar boat.
How to order: Lunch reservations can be made online. Make a dinner reservation by DMing the restaurant on Instagram.