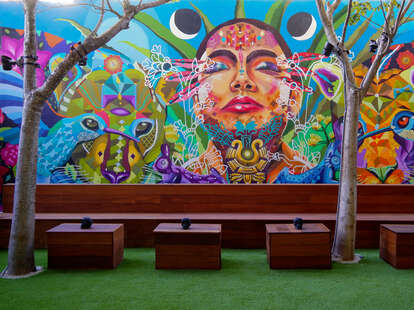 Pilo's Tequila Garden

| Photo Courtesy of Pilo's Tequila Garden
Pilo's Tequila Garden

| Photo Courtesy of Pilo's Tequila Garden
When dropping it low to reggaeton leads to a serious case of the drunchies, PILO'S has you covered. The tequila garden is a total party, but its also got you covered so you can fuel up for a night out with tacos, guac, and all your other favorites. Order margaritas or straight tequila from the bar and then burn off the calories by dancing to its night-long array of Latin hits. The outdoor club space is decked out with two bars, VIP booths, and a whole treehouse DJ booth, so the entertainment won't be lacking.
We'd call Pilo's Perrero Bowl-Reggaeton Super Bowl Watch party the most only-in-Miami gameday experience in the city. Except…it'll be snowing. In perhaps the most curious party of the weekend, Pilo's is throwing an apres ski complete with indoor snow for the Super Bowl, including Champagne spraying sessions and $10 frozitas. Plus, it'll serve the usual lineup of Latin hits when there's a break in the action.
How to book: Show up for first come, first served service.