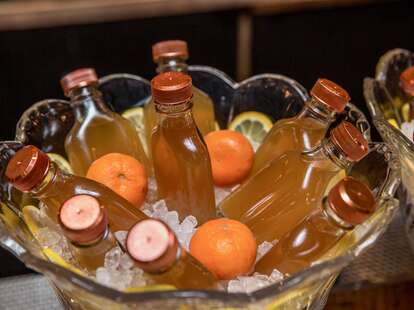 Porchlight

| Photo by Sam Horine
Porchlight

| Photo by Sam Horine
Monday
12:00 PM - 12:00 AM
Tuesday
12:00 PM - 12:00 AM
Wednesday
12:00 PM - 12:00 AM
Thursday
12:00 PM - 2:00 AM
Saturday
12:00 PM - 2:00 AM
Sunday
12:00 PM - 10:00 PM
You could comfortably spend an entire afternoon or evening at Porchlight. Here, what starts as a quick drink and catch-up with a few friends can quickly morph into an hours-long hang once you discover the board games and their tempting list of cocktails. And if you get hungry, there's plenty to try on the Southern-inspired food menu as well, from snacks like hush puppies with hot honey to full-on entrees like fried shrimp po' boy.
When: Mon to Sat, 3 pm - 6 pm
Known for its Southern-inspired charm, this bar from Union Square Hospitality Group reopened just this week after initially closing last March at the beginning of the pandemic. For those who've sorely missed drinking at the Chelsea spot in the last year, Porchlight's happy hour menu not only runs for a solid three hours on most weekdays, but is also available on Saturdays as well. In addition to $11 cocktails like a bee's knees or the American Trilogy (Laird's apple brandy, rye blend, demerara and orange bitters), choose from two beers or a $5 flask of punch.
How to book: Reservations are available via Resy.
Monday
12:00 PM - 12:00 AM
Tuesday
12:00 PM - 12:00 AM
Wednesday
12:00 PM - 12:00 AM
Thursday
12:00 PM - 2:00 AM
Saturday
12:00 PM - 2:00 AM
Sunday
12:00 PM - 10:00 PM