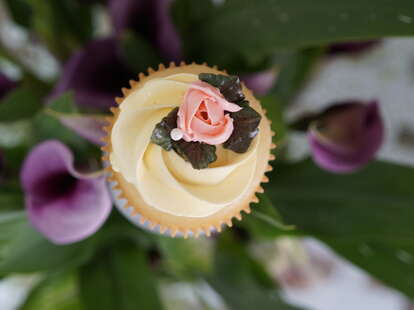 The gist: Delicious cakes and cupcakes topped with beautiful buttercream flowers and leaves.
The food: The cakes and cupcakes here are not just moist and delicious—they're all topped with buttercream frosting, then owner Jayme Choi decorates them with colorful buttercream flowers and leaves. Beyond just roses and gardenias, Choi can recreate a wide variety of painstakingly detailed garden and tropical flowers. Some cakes also have a surprise fruit curd filling.
The cost: Cupcakes start at $3.25 to $3.50; custom cakes start at $50.
How to book: Walk in or order ahead through the website. The bakery can be hard to find—set your GPS for Fukuya Ramen, which has the same address, and Pua Cake Studio is behind it.