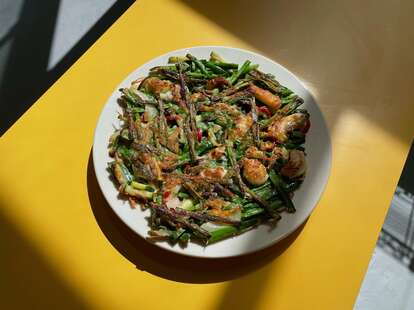 This sweet little Korean superette in the Sunset quickly gained a citywide following for house-made gochujang, a stellar selection of Korean snacks and natural wine, and seasonal banchan and kimbap, available to go. Now, Queens has a new menu of well-executed Korean fare to enjoy at a few tables in their sunny backroom (or to take home), with a glass of wine, of course. The menu is anchored by classic, shareable dishes like Rice Cakes with fish cakes and boiled egg in a sweet, spicy sauce; garlic, chive-rich Seafood Pancakes; and tender lamb served with mizuna and salted cod roe. Keep an eye out for specials like Omurice, and definitely sample their off-menu (but always available) Gil Geori Toast.
How to book: Online ordering available on Clover.
OK, technically Queens is a superette, but since it's started offering hot food and indoor and patio seating, it's kind of now like a little restaurant with a well-curated marketplace. Plus, with more than ten kinds of house-made condiments, plus all the house-made banchan, how can you not stock up on signature gourmet Queens-branded pantry staples here? Sachets full of dried aromatics, shiitake mushrooms, and anchovies make up the Queens Myulchi Yooksu (anchovy dash stock) starter pack. House-made gochuchang, mushroom salt, and buchimgae (savory Korean pancake mix) are just a few more goodies. There are also occasional surprises of limited-run house-made goods, like the ten bottles of kong guksu milk broth (soybean and pine nut milk broth) that were only available for a weekend back in June. Will there be more? Keep an eye on the Instagram account to find out.
How to order: Walk in or order for pickup online.