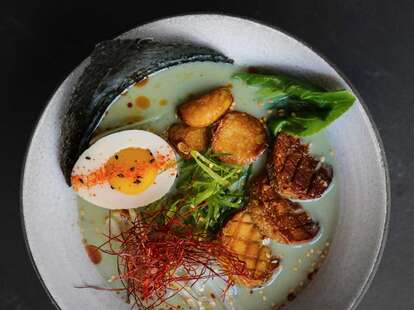 Photo courtesy of Ramen Hood
Tuesday
11:00 AM - 3:30 PM
Wednesday
11:00 AM - 3:30 PM
Thursday
11:00 AM - 3:30 PM
Saturday
11:00 AM - 3:30 PM
The ramen fromTop Chefalum Ilan Hall's stall within Grand Central Market is another win for vegans, with a rich broth that gets its thick-ish texture from sunflower seeds. The formerly super-short menu got an expansion a while back and you can now choose between OG, spicy, or garlic versions, all loaded with umami-packed king oyster mushrooms, bean sprouts, bok choy, chili threads, scallions, and nori, plus the option to add a plant-based egg. You can also opt for some chilled versions, including smokey ramen and dan dan noodles. And look for a menu of $7-$8 small plates including togarashi tater tots, soy-chili-glazed broccoli, and avocado toast.
How to Order: Walk-ins only for dine-in. Order online through the restaurant for pickup.
Top Chef winner Ilan Hall's first restaurant in LA, The Gorbals, shuttered several years ago, but soon after, he partnered with Rahul Khopkar to debut their Grand Central Market vegan ramen stall. Each bowl is a veggie-friendly melange of bean sprouts, scallions, bok choy, king oyster mushrooms, nori, chili threads, and al dente noodles, all swimming in a surprisingly rich, creamy soup. Creating the savory broth is a process: Kelp and shiitake mushrooms are simmered to extract umami flavor, combined with miso-roasted sunflower seeds, and pressure-cooked. Even the "egg" is vegan; the silky-soft, wiggly dupe looks exactly like the real thing, but it's made with GMO-free soy milk, agar, and nutritional yeast.
How to order: Walk-ins only for dine in. Order for pickup online; pickup or delivery via UberEats and other apps.
Tuesday
11:00 AM - 3:30 PM
Wednesday
11:00 AM - 3:30 PM
Thursday
11:00 AM - 3:30 PM
Saturday
11:00 AM - 3:30 PM