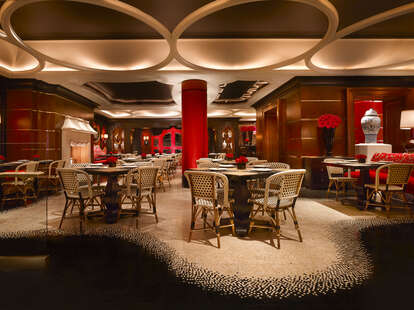 Photo by Barbara Kraft, courtesy of Red 8
Photo by Barbara Kraft, courtesy of Red 8
Red 8 features dishes from China, Thailand, India, Vietnam, Singapore and Korea with Cantonese noodle dishes, dim sum and Hong Kong style barbecue.
Monday
11:30 AM - 12:00 AM
Tuesday
11:30 AM - 12:00 AM
Wednesday
11:30 AM - 12:00 AM
Thursday
11:30 AM - 12:00 AM
Sunday
11:30 AM - 12:00 AM
Saturday
11:30 AM - 1:00 AM
Red 8 serves dim sum straight from the menu—all day, all night—inside a dining room of dramatic red and gold decor that feeds off the energy of the Wynn's casino floor. The prices are noticeably higher than off-Strip restaurants, but you'll get exceptionally crafted recipes by Sandy Shi, the resort's head dim sum chef. Siu Mai (open-faced dumplings) come with traditional pork or abalone fresh from the shell. Like all Wynn restaurants, there is thoughtful consideration given to vegan dishes, so try the plant-based potstickers and jade mushroom dumplings naturally colored with spinach. At first glance, the dim sum selection seems relatively small, but traditional favorites are seen throughout other parts of the menu (including five versions of congee—a rice porridge) along with elevated versions of Chinese staples like a Jidori take on General Tso's Chicken.
How to book: No reservations. Call 702-770-3380 to place a pickup order.
Monday
11:30 AM - 12:00 AM
Tuesday
11:30 AM - 12:00 AM
Wednesday
11:30 AM - 12:00 AM
Thursday
11:30 AM - 12:00 AM
Sunday
11:30 AM - 12:00 AM
Saturday
11:30 AM - 1:00 AM