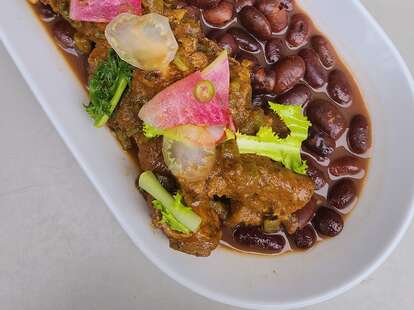 Photo courtesy of República
Where to Eat in Portland Right Now
The gist: Portland isn't generally considered a destination for Mexican dining, but that is slowly but steadily changing. One big addition to the Mexican scene is República. Tucked into the sleek and urban Ecotrust Building, República comes from Chef Lauro Romero of King Tide Fish and Shell; Angel Medina, the founder of Reforma Roasters; and Olivia Bartruff of Olivia B Sweets.
The food: The new restaurant is all about Mexican home cooking, from guisados (stewed meats) to tortas, sopas, tacos, and oversized tacos filled with guiso. Additionally, República offers Mexican pastries and a daily family feast with multiple dishes and courses.
The cost: Taco plates run from $10 to $12 and other entrees hover around the $11 mark. Sweet treats are $6 to $12, while the family dinners range from the low $40s to $70, based on the size of the feast.