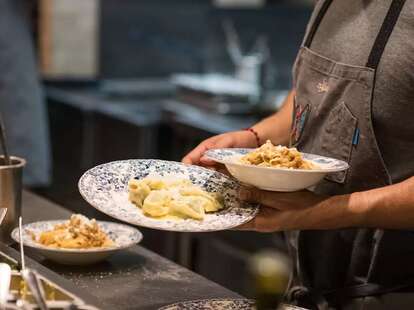 Rossoblu features house made salumi, soulful pastas, market produce, and wood grilled fish and meats.
Tuesday
5:30 PM - 10:00 PM
Wednesday
5:30 PM - 10:00 PM
Thursday
5:30 PM - 10:00 PM
Saturday
5:00 PM - 11:00 PM
This massive, rustic Italian mainstay in the Fashion District quietly does some of the best fresh pastas in town, with standouts like a Tagliatelle Bolognese; swiss chard-and-ricotta-stuffed Tortellini, and the signature Minestra Nel Sacco, pillowy parmigiano dumplings floating in broth. Make sure you try the ridiculously good eggplant with tomato sugo that's been on the menu since the beginning. The front courtyard patio is a lovely option, but for some of the best seats in the house inside, ask to dine at the bar surrounding the open kitchen where you can watch chefs grill enormous ribeyes and dry-aged orata, and put the finishing touches on those beautiful bowls of pasta.
Steve Samson's Cal-Italian Fashion District staple is doing a multi-course Christmas meal for two featuring some of the restaurant's signature dishes like that tomato sugo-topped Valbruna's eggplant, the brothy minestra nel sacco, lasagna Bolognese, and the heirloom and Tuscan kale ribollita, all centered around a beefy grilled prime rib with red wine jus and horseradish crema plus a Yule log for dessert.
Cost: $158
How to order: Order on Tock for pickup on December 24.
Tuesday
5:30 PM - 10:00 PM
Wednesday
5:30 PM - 10:00 PM
Thursday
5:30 PM - 10:00 PM
Saturday
5:00 PM - 11:00 PM