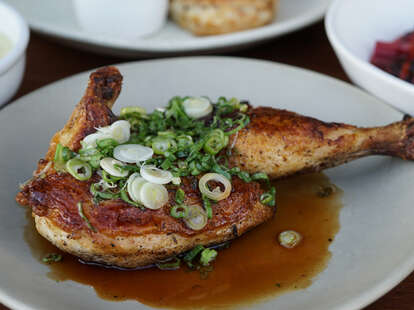 Photo by Lindsey Huttrer for Rustic Canyon
Photo by Lindsey Huttrer for Rustic Canyon
Rustic Canyon Wine Bar and Seasonal Kitchen is a neighborhood restaurant and wine bar where friends near and far can come together and celebrate the best things in life: great food, great wine, and great people.
Tuesday
5:30 PM - 10:30 PM
Wednesday
5:30 PM - 10:30 PM
Thursday
5:30 PM - 10:30 PM
Saturday
5:30 PM - 11:00 PM
The Rustic Canyon Family of restaurants—which includes a wildly impressive portfolio of Santa Monica stalwarts like Milo & Olive and Huckleberry—all started with this original establishment. Hyper-focused on local purveyors and made-from-scratch everything (even the sea salt!), the menu always reflects seasonal ingredients, so you'll find succotash and cranberry beans during the summer and twice-cooked honeynut squash with vadouvan sauce in the fall. Plus, a newly appointed pastry chef, Erika Chan, is crafting innovative desserts—like shiso and mint chip ice cream sandwiches—that will make you want to pay this local favorite yet another visit.
How to book: Download the Rustic Canyon Family app for pickup and delivery options.
Tuesday
5:30 PM - 10:30 PM
Wednesday
5:30 PM - 10:30 PM
Thursday
5:30 PM - 10:30 PM
Saturday
5:30 PM - 11:00 PM