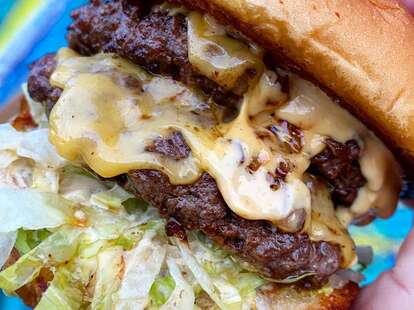 Tuesday
5:00 PM - 10:00 PM
Wednesday
5:00 PM - 10:00 PM
Thursday
5:00 PM - 10:00 PM
Saturday
5:00 PM - 10:00 PM
The gist: Former Top Chef contestant Jesse Sandlin livens up a corner block, former home of the beloved Laughing Pint, with a vibrant and tropical ode to Baltimore kitsch and bar food.
The food: Go here for messy and satisfying comfort food, all made with fresh and mindfully sourced ingredients. The watermelon and feta salad bursts with fragrant mint, basil, and pickled onions and the mac and cheese oozes with bechamel. But the star is the Highlandtown Smashburger—two generous patties of short rib-brisket-chuck blend, shredded iceberg, American cheese, fried onions, pickles, and spicy sauce on a potato roll. The Big Mac wishes.
The cost: Starters are $9-14, entrees are $12-45, and drinks and desserts range from $3-8.
How to order: Reserve outdoor sidewalk seating on OpenTable or get carryout through Toast.
Tuesday
5:00 PM - 10:00 PM
Wednesday
5:00 PM - 10:00 PM
Thursday
5:00 PM - 10:00 PM
Saturday
5:00 PM - 10:00 PM