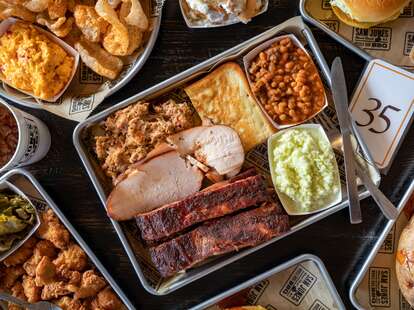 The basics: A prime example of Carolina barbecue's leap into the 21st century, Sam Jones BBQ serves alcohol, accepts credit cards, and lists both small plates and salads on the menu. But don't let the newfangled additions fool you—Jones smokes his whole hogs the same exact way his grandfather Pete once did at the famed (and still operating) Skylight Inn in nearby Ayden.

What the pitmasters say: "I love the way that they not only put coleslaw on the sandwiches, but also have chopped up skin mixed in with the pork—delicious," says Scott. "Sam and I have been on the barbecue circuit together for a while now and I've always been impressed with his attention to detail and commitment to the craft," adds Lewis. "His whole hog is some of the best I've ever tried and I appreciate how he's combined his old-school roots with a modern menu."
How to book: Stop by for first come, first served seating or order take-out online.