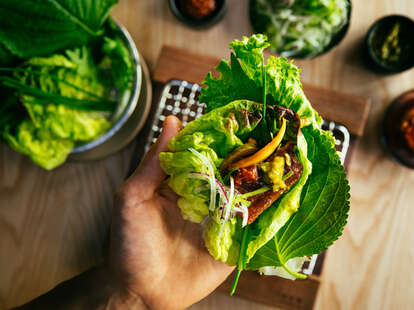 Photo by Eric Wolfinger, courtesy of San Ho Won
The Most Exciting Restaurants in San Francisco Right Now
The gist: Few new restaurants have been as hotly anticipated as San Ho Won, chef Corey Lee's homage to the Korean comfort food of his childhood. While decidedly more homestyle than Lee's venerated Benu, expect plenty of fine dining finesse. The sleek, striking space, dominated by earthy wood tones and rich blue hues, has plenty of roomy, comfortable booths to pack a crew in for a barbecue-centric feast. (There are no tabletop grills; the grilling takes place on a stove burning custom-created charcoal.)
The food: The menu includes everything from specialty banchan to soups and stews and, of course, an ample selection of barbecue with cuts including classic galbi, beef tongue, and a whole marinated Cornish hen. Don't skip Lee's takes on traditional Korean dishes, including a blood sausage-topped Korean pancake, chicken and ginseng jook with abalone, and kimchi jigae prepared pozole-style with hominy and avocado. Or skip making hard choices and go for the family-style house menu for the table.
The cost: A la carte dishes are $14-$38, banchan and sides are $3-$8, and large format dishes are $32-$46. The house menu is $95 per person.