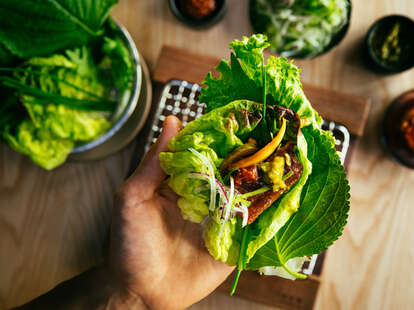 Photo by Eric Wolfinger, courtesy of San Ho Won
Wednesday
5:00 PM - 9:00 PM
Thursday
5:00 PM - 9:00 PM
Saturday
5:00 PM - 10:00 PM
Few new restaurants have been as hotly anticipated as San Ho Won, chef Corey Lee's homage to the Korean comfort food of his childhood. While decidedly more homestyle than Lee's venerated Benu, expect plenty of fine dining finesse. The sleek, striking space, dominated by earthy wood tones, has plenty of comfortable booths to pack a crew in for a barbecue-centric feast, plus bar top seating for a more intimate option. The menu includes everything from specialty banchan to soups and stews and, of course, an ample selection of barbecue with cuts including classic galbi, beef tongue, and a whole-marinated Cornish hen. Don't skip Lee's takes on traditional Korean dishes, including a blood sausage-topped Korean Pancake, Chicken and Ginseng Jook with Abalone, and Kimchi Jigae prepared pozole-style with hominy and avocado. Or skip making hard choices and go for the family-style house menu for the table.
How to book: Reservations can be made via Tock.
There was a lot of buzz about this Korean barbecue restaurant from Michelin-starred chef Corey Lee (Benu) and Jeong-In Hwang, and, in news that will surprise absolutely no one, it lives up to the hype. The space is sleek and stark with a casual vibe (well, compared to Benu, anyway), allowing the smoky dishes to shine. Unlike most Korean barbecue spots in SF, you'll leave the cooking of the meat to the chefs, who prepare well-sourced ingredients with meticulous techniques for memorable charcoal-grilled barbecue. The charcoal is solid lychee wood charcoal that's produced especially for the restaurant, in case you had any doubts about these meats (Marinated Prime Beef Short Rib, Prime Beef Neck Filet, Pork Ribs, and Rotisserie Chicken, to name a few) lingering in your mind. There's also a ton of non-barbecue stuff, but don't lose focus!
How to enjoy: Reservations are released at 10 am each day and can be made online. Counter seats are available for walk-ins.
Wednesday
5:00 PM - 9:00 PM
Thursday
5:00 PM - 9:00 PM
Saturday
5:00 PM - 10:00 PM