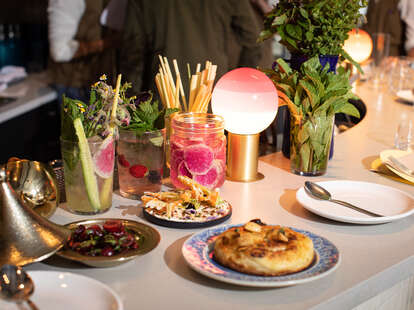 Everywhere You Need to Eat in NYC Right Now
The gist: Longtime Village Mediterranean favorite Shuka gained a sibling in Chelsea this last summer. Brought to you by The Bowery Group (Cookshop, Rosie's, Vic's) and chef/partner Ayesha Nurdjaja, Shukette's arrival had been long anticipated and was subsequently delayed due to COVID-19. With a focus on cuisine found in the Levant, it's energetic yet laid-back vibe makes for a memorable outing. Here, the visuals of each dish pop—the design, interior, and plateware are bright and colorful; and different menu sections even have cheeky titles like "When You Dip, I Dip, We Rip," (those are for spreads and dip, btw). The Mediterranean food here is too good to enjoy alone, so definitely go with your crew to catch up over lots of sharable items that include house-baked breads, small plates, charcoal grilled protein, and spritz-style signature cocktails from bar director, Tim Harris.
The food: Spreads and dips include a Labneh with pomegranate, scallion, and rosy harissa; and Butternut Squash Chershi with urfa pepper and hazelnut. House-baked breads include frena, lafa, pita, gozleme, and chickpea flaxseed crackers. Small plates include Roasted Delicata Squash with charred red onion and mint; Shawarma spiced fries; and Jeweled r=Rice with saffron butter, currants, dill, and orange. Choose from mains like the Fish In A Cage, a Grilled Whole Porgy with herb pistou; Joojeh Chicken with toum and shata; and Grilled Lamb Skewers with garlic yogurt. For dessert, end your night with the sole option: The Mic Drop Tahini Soft Serve with candied butternut squash, halva floss, and hazelnut.
Restaurants Are Upping Their Soft Serve Ice Cream Game in NYC
From the team behind Mediterranean favorite Shuka, this energetic offshoot has all the dips, charcoal grilled meat, and pita one would expect. In a section playfully called "the mic drop," the restaurant's lone dessert is oat milk soft serve. The dessert stays true to the rest of Shukette's flavor profiles and comes in a tahini flavor topped with halva floss, hazelnuts, and in-season sour cherries.