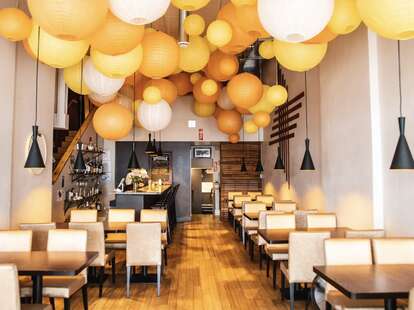 Sichuan House

| Photo Courtesy of Sichuan House
Sichuan House

| Photo Courtesy of Sichuan House
The gist: Nearly 100 paper lanterns cast a warm glow over the slim, two-tiered space where owner Qi Shen offers a wide array of authentic regional dishes from China's Sichuan province.
The food: The menu includes the sorts of tongue-tingling málà dishes many American food enthusiasts know and love, but there are plenty of tamer options, too. Shen makes everything from scratch, including her own chili oil and doubanjiang—a fermented chili bean paste that gives dishes like double-cooked pork (tender flash-fried pork belly with leeks) their well-balanced, salty fermented flavor. Start with Zhong pork dumplings, bathed in a sweet-tangy chili sauce, or a plate of smoky tofu and roasted peanut salad. Then move on to mala dry hotpot vegetables or spicy, sour soup noodles, a belly-warming soup featuring skinny tender noodles, fresh bok choy and minced pork.
The cost: Small plates and salads range $7-15, vegetables, rice, and noodle dishes are $12-18, entrees run $10-25. Honey citron tea is available for $3. Beer and other alcoholic beverages are on hold until in-person dining resumes.
How to order: Order takeout at Sichuan Kitchen or Square.