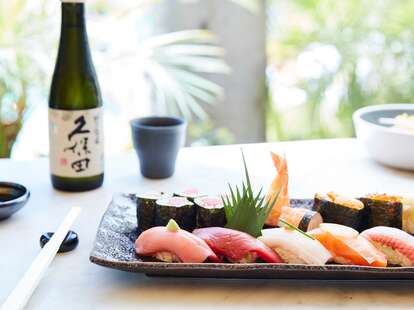 This sushi bar at the Fairmont Miramar Hotel & Bungalows is incredibly intimate, with an eight-stool counter filled with Westside regulars who have an easy rapport with veteran chef Masa Shimakawa. The menu consists mostly of rolls (with a few out-of-the-box combos, like plum shiso yam and torotaku), a nice edit of nigiri with a few sustainably sourced options, and a couple shareables (including a standout bluefin tuna platter piled with different cuts of the fish). But what you'll really want to order is off-menu: request the secret roll—a gold-flake-topped creation of luscious toro, avocado, uni, salmon roe, and caviar—or ask Chef Masa to surprise you with something of his choosing (trust us, it will be delicious).
How to book: Make reservations online.
Although you can find stellar sushi in almost every LA neighborhood, this new spot is exceptional enough to warrant a trip to the Westside. First of all, it's an intimate eight-seater—so expect to get up close and personal with your fellow diners (many are locals who've already become regulars) and veteran chef Masa Shimakawa, a Hokkaido native who brings his refined techniques and sensibilities to the art of sushi. Secondly, Soko's location in the stunning Fairmont Miramar Hotel & Bungalows, just steps away from the beach, is pretty special. Last, but not least, the fish is jaw-droppingly fresh—offered via a straightforward yet sophisticated selection of nigiri and classic rolls. The name of this sushi bar pop-up (which, by the way, runs indefinitely) means "storeroom"—a tribute to the way fish was preserved with fermented rice and salt in darkened storerooms during pre-refrigeration times and the fact that Soko was built out of a storeroom in the Fairmont's lobby. Pro tip: Ask for the off-menu secret roll for a stunning gold-flake-topped creation of toro, avocado, uni, salmon roe, and caviar—which, inevitably, at least one of your nearby fellow diners will want to order too.