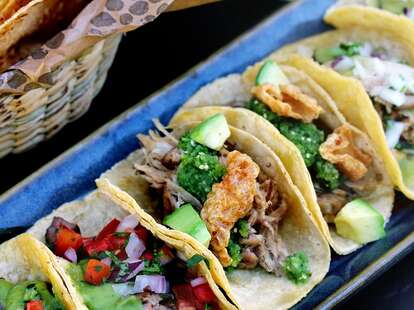 Our restaurants are inspired by the best of coastal Baja California: Warm, welcoming, friendly, inspired by old and new Mexican design. SOL's kitchens feature our unique spin on fresh, healthy, coastal Mexican food, lovingly made from scratch.
Monday
11:00 AM - 10:00 PM
Tuesday
11:00 AM - 10:00 PM
Wednesday
11:00 AM - 10:00 PM
Thursday
11:00 AM - 10:00 PM
Friday
11:00 AM - 11:00 PM
Saturday
10:00 AM - 10:00 PM
Sunday
10:00 AM - 10:00 PM
Featuring flavors inspired by Baja Mexico, SOL Mexican Cocina quickly expanded across Southern California and as far as Scottsdale and Denver, as more and more diners became fans of their eclectic menu of organic and seasonal dishes. Don't miss the famed Taco + Tequila Tuesday, which offers deals like a Hot & Raw Ceviche for $9 and a six-pack of street tacos for $12, plus discounts on margaritas, all 12-ounce beers for $5, and house wine for $7 from 3 pm to close. But don't fret if you can't make it on Tuesday—happy hour offers the same deals from 3–6 pm Monday and Wednesday through Friday. From the regular menus, the award-winning Taco Vampiro is filled with carne asada, guacamole, and pico de gallo, and best paired with the Mezcalero cocktail— featuring hand-muddled passion fruit, guava, and fresh lime, shaken and served with mezcal. Each dish is made fresh every day, along with over 24 house-made salsas.
How to book: Walk-ins welcome or order online for takeout.
Monday
11:00 AM - 10:00 PM
Tuesday
11:00 AM - 10:00 PM
Wednesday
11:00 AM - 10:00 PM
Thursday
11:00 AM - 10:00 PM
Friday
11:00 AM - 11:00 PM
Saturday
10:00 AM - 10:00 PM
Sunday
10:00 AM - 10:00 PM