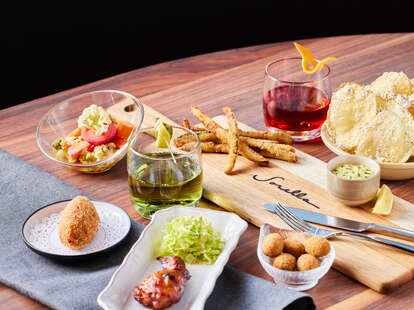 Photo by Hardy Wilson, courtesy of Sorella
Acquerello, truly one of the grande dames of San Francisco restaurants, has a new little sister—Sorella, a casual restaurant and bar with a next-level menu of fresh pastas, cocktails, Italian wines, and cicchetti at the bar. The corner restaurant boasts floor-to-ceiling windows, seating options that range from booths to barstools, and some of the best neon art we've seen—a pair of lips slurping up a noodle that unwinds to spell the restaurant's name. The menu is flavor-forward and well-executed without being fussy, with handmade pasta being the star of the show and preparations including Tonarelli with Sea Urchin and Salmon Caviar, Short Rib Agnolotti with black trumpet mushrooms, and Porcini and Corn Ravioli with buttermilk and smoked butter. While we certainly could live on pasta alone, don't skip the cocktail-ready cicchetti menu which features elevated snacks like Cacio e Pepe Potato Chips and Anchovy Toast with black truffle and cultured butter.
Acquerello recently welcomed a little sister to the family, Sorella, a more approachable and affordable (still with some fancy vibes, though) restaurant and cocktail bar with a talented team of chefs in the open kitchen putting out some truly fantastic food. There are so many stars on the menu that it's hard to name the one that shines brightest, but if we had to choose, it's the pasta dishes. Of those, the Dry-Aged Beef Timballo, an indulgent nine-layer lasagna-esque (but with thinner layers of pasta) dish, would probably take home the Oscar, but would certainly thank the others in its acceptance speech. While a full decadent dinner in Sorella's dining room is a must, another excellent option is to sit at the bar and order snacks from the bar-only Cicchetti menu, paired with Italian-inspired craft cocktails, amaro (there are dozens to choose from), and Italian wine. Our favorites: the Potato Leek Focaccia, fancy "cacio e pepe" potato chips, sausage-filled and breaded olives, veal meatballs, and the best chicken wings we've ever had (yes, seriously)—which are stuffed with calabrese sausage and tossed in a honey chili glaze.
How to book: online.