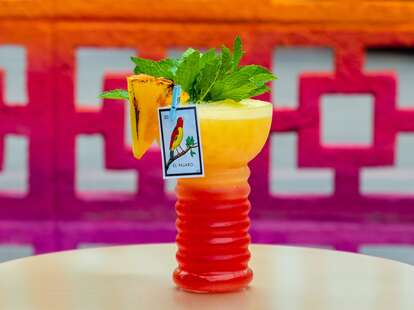 Photo courtesy of Space Cowboy
Wednesday
4:00 PM - 2:00 AM
Thursday
4:00 PM - 2:00 AM
Saturday
4:00 PM - 2:00 AM
One of the greatest upsides of living in Houston is that pool season basically lasts all year-long. Enter this splashy bar and lounge concept, which sits over at the reimagined Heights House Hotel and comes from industry pro Greg Perez (Monkey's Tail) and his hospitality collective, Night Moves (its Trash Panda Drinking Club is another watering hole you'll want to check out). Pop in for cocktails like the crushable rum-, passionfruit-, and ginger-spiked Sun Soaked on Montie Beach, or get fired up with a Spicy Lady, made with Heaven's Door Highway 61 Blend, St Germain Elderflower liqueur, mango, lemon, and housemade habanero tincture. For an added touch, you can snag a $20 pool pass and enjoy these beverages in a waterfront cabana (or just stick to the open-access bar and lounge).
How to book: Stop by for first come, first reserved seating.
Catch the gridiron action on a towering 17-foot screen at the recently madeover Heights House Hotel's good vibes lounge. Starting at 5 pm, Confidential Cocktail Club's Matthew Medina will be shaking up the good stuff as you take down Caluma Tacos courtesy of chef Adriana Maldonado. Drink and shot specials will be available throughout the game, alongside Lotería, a mechanical bull, a live DJ, and an emcee. We feel like we should mention the mechanical bull again, so here it is.
Wednesday
4:00 PM - 2:00 AM
Thursday
4:00 PM - 2:00 AM
Saturday
4:00 PM - 2:00 AM