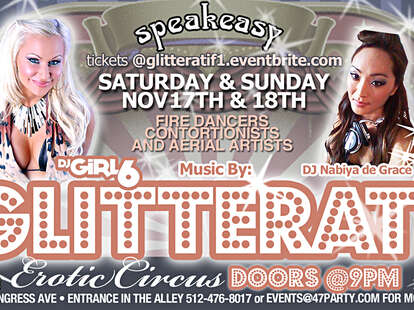 This weekend Speakeasy's aiming to raise your big top with a sexually suggestive circus populated by professional dancers ranging from contortionists to fire spinners to aerialists, with tunes courtesy of the nation's foremost female video DJ, Girl 6.
Speakeasy is one of those rare OG downtown spots that's managed to weather the storm over the years and even evolve along the way. Terrace59 is the Miami-esque rooftop lounge upstairs, with white cushioned furniture, DJs, low lights, and epic views. Dedicated bar and cocktail waitresses make this a welcoming destination for the graduated-from-Dirty Sixth crowd, and they even sell cigars if you're feeling extra swank.
How to book: Email info@speakeasyaustin.com to reserve.