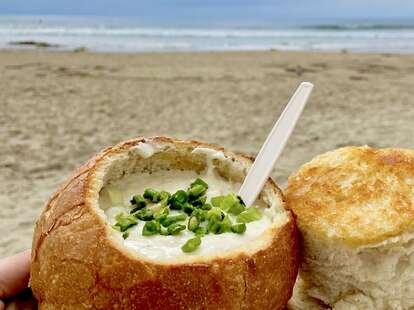 Famous for our award winning clam chowder, we also specialize in many other fresh seafood entrees. Our customers love our fresh salmon, ahi tuna tacos, crispy hot fish & chips, and fresh calamari to name a few...
Wednesday
9:00 AM - 7:00 PM
Thursday
9:00 AM - 7:00 PM
Saturday
9:00 AM - 8:00 PM
There are a ton of restaurants on the narrow strip of Pismo Beach between the 101 and the sand, but perhaps none is so beloved as Splash Cafe, who make some of the best, richest clam chowder around. It's won all sorts of national awards, which means you should probably get at least a cup, but it also means that their other menu items sometimes go overlooked. That's a bit of a shame, because the rest of the seafood-focused menu is also excellent—fish sandwiches, clam strips and chips, and seafood tacos are all hits. If you need a quick sugar infusion, pop around the corner to Old West Cinnamon Rolls and take dessert on the road.
How to order: Walk in, or order for pickup from a slightly limited menu via ChowNow.
Wednesday
9:00 AM - 7:00 PM
Thursday
9:00 AM - 7:00 PM
Saturday
9:00 AM - 8:00 PM